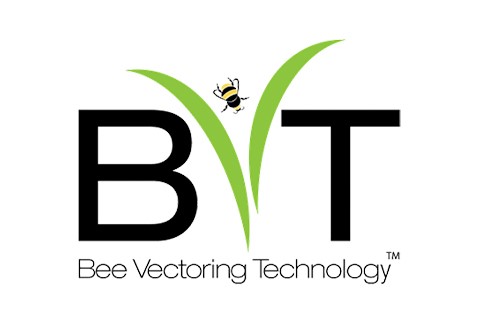 Bee Vectoring Technology (BVT)
Company Description
Precision bee vectoring is generating real excitement across America. It's helping growers like you manage crop disease and increase marketable yields – naturally.

Bee vectoring delivers continuous protection directly to flowers: BVT's VectorHive™ system uses commercial bees to deliver Vectorite™ with CR-7, a biological fungicide for the control of common fungal diseases including Colletotrichum (anthracnose), Botrytis (gray mold), and Monilinia (mummy berry).

How does bee vectoring work? As bees leave their hive to forage, they walk through our VectorHive dispenser, picking up trace amounts of biofungicide (which attach harmlessly to their bodies), then carry it directly into blooms. As the bees pollinate your crops, they efficiently deliver the microbe directly to where plants are most susceptible to many fungal diseases: the flower. Once on the flower, the microbe colonizes the plant and protects the crop against various diseases.


Bee vectoring works. But don't take our word for it. Ask the 24+ Southern berry growers who saw it in action in the last growing season. Here's what a few of them had to say:
20-35% drop in disease incidence and severity:

reductions in

Colletotrichum

(anthracnose)

,

Botrytis

(gray mold)

, and

Monilinia

(mummy berry)

15-40% higher marketable yields

More durable berries with longer shelf life

Reduced use of chemical fungicides

Less post-harvest disease, with less rejection at the packing house

More profit for growers!

Watch and hear what these Southern growers have to say about using bee vectoring: https://www.vectoritebvt.com/gavideos/.

This ground-breaking system is highly targeted, all-natural and good for crops, people and the environment.
Categories
Ag Services

Bees / Honey

Fruit & Vegetables

Organic

Products & Services

Bees
Crop Protection
Precision Agriculture Products

Services
To Top