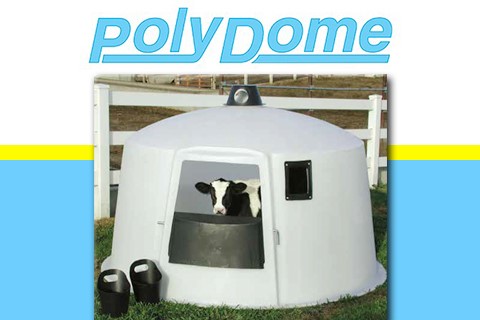 Daniel Johanneck
62824 250th Street
Litchfield, MN 55355
(800) 328-7659
Dan@polydome.com
Company Description
The Polydome Story
Over 30 years of experience.
Dick Johanneck started Polytank, Inc. in 1972 doing custom rotomoulding. In 1977, he began making calf hutches, which became known as Poly Dome Calf Nurseries. The agricultural products division of Polytank was later named PolyDome. Since that time, Polytank and PolyDome have added over 200 products to their line. Polytank has dealers scattered across the United States, Canada, and 10 foreign countries.
The rotomoulding process uses hollow metal moulds and a powdered polyethylene plastic that becomes liquid under high heat. The moulds with the liquid plastic inside are spun on both vertical and horizontal axis to form a uniform thickness or skin on the outside walls, thus the name roto moulding. the mould is removed from heat and allowed to cool under controlled conditions to avoid shrinkage or warpage. The resulting polyethylene plastic is resistant to impact, most corrosive chemicals, and temperature extremes. The slippery surface makes it very easy to clean. Polyethylene is also environmentally friendly because it can be recycled.
Most PolyDome products are one-piece with no seams or sharp edges. The lightweight of polyethylene makes even large units east to lift and move.
PolyDome has their own metal fabricating shop for frames, stands, and supports used with their agricultural products. All metal parts are powder coated for corrosion resistance.
www.polydome.com www.polytankco.com www.explora-dome.com
Categories
Animal Health

Enclosures

Barns & Shelters
Greenhouses
Roof Coatings

Equipment

Equipment
Agricultural Equipment
Feeding Equipment

Feeds

Supplies

Supplies
Building & Barn Supplies
Wildlife / Outdoors

Aquaculture

Aquaculture Design
Fish Health & Diagnostics
Pond Construction
Water Chemical Testing
Water Recirculation Systems
To Top